BWL Publishing, with the support of the Government of Canada's Canada Book Fund, is proud to announce a series of historcal mystery novels, with one novel set in each of the Canadian Provinces and Territories. These books will feature a historical mystery, with a factual setting and background, around which our authors have created a fictional mystery that represents the spirit of the people of Canada who have sought justice over the centuries.
---
Rum Bullets and Cod Fish by H. Paul Doucette
Book 1 - Canadian Historical Mysteries - Nova Scotia
The story takes place in 1924 during Prohibition. It follows the undercover investigation officer, Jerome Conway, as he seeks to find out the ringleaders behind the illegal importation of liquor from St. Pierre and Miquolon and the Caribbean for distribution to the US mob.
The year is 1924 and Prohibition is spawning a new breed of criminal. Rum runners. Jerome Conway is the undercover investigation officer whose job it is to uncover the ringleaders behind the illegal importation of liquor from St. Pierre, Miquolon, and the Caribbean destined for distribution to the US based mob. His task is a complicated and dangerous one which leads him into the dark corners of illegal activities and the underbelly of society. If he is to be successful in his quest and emerge unscathed, Conway will need to be smarter and quicker than the felons he is chasing.
Click this link for Purchase Information
---
Sleuthing the Klondike - Yukon
Book 2 - Canadian Historical Mysteries Yukon
Joan Donaldson-Yarmey
Helen Castrel has just arrived in Victoria, British Columbia, from England and she hires Baxter Davenport of the Davenport & Son Detective Agency to go with her to Dawson City and help find her second oldest brother, David, whom she hasn't seen since she was eleven years old.
David had been trouble to the family since he was young and was sent to Canada as a remittance man ten years ago. The last communication her father, Charles Castrel, received from David was late last summer when he sent a telegram from Victoria, British Columbia, saying he was on his way to the Klondike gold rush at Dawson City. Since then Charles Gastrel has heard nothing from his son, not even a letter stating where his remittance money was to be sent. Helen needs to find David to make sure he's alive and to deliver a message from their father.
Baxter Davenport isn't sure about travelling north with two women. He will have a job to do and doesn't need to be looking after them. Plus, he doesn't like the idea that Helen Castrel is excited about being a sleuth along with him. He soon finds out that both women can look after themselves.
Mattie Lewis, Helen Castrel's lady's maid, insisted on accompanying Helen, not only to look after her but because she has worked for the family for years and remembers David better than Helen does. She also has her own motive for wanting to find David.
The three head north armed with an old photograph and a recent description they obtained from David's former landlady. They arrive in Dawson City where the gold rush is in full swing. There they are challenged by deceit, fraud, and danger in their quest to find David.
---
The Flying Dutchman
Book 3 - Canadian Historical Mysteries, British Columbia
Jay Lang
It's 1913. The move to Cumberland is her brother Billy's idea, and it's a good one. The little mining community on Vancouver Island is quiet, and it's a change—exactly what nineteen-year-old Heather Foster needs after her mother's death. It isn't long, however, before Billy's gambling pushes them both into poverty. Soon after, a mine explosion takes his life.
Desperate and alone, Heather journeys to Union Bay. There, she finds a post office job. More importantly, she finds Henry. Over the passing months, Heather falls for the handsome mariner.
After a string of burglaries on the coast, Henry suggests they move to the USA after he gets his final delivery wages. For the first time since her mother's death, Heather feels hope for the future—a hope that's shattered by four shotgun blasts echoing over the bay.
---
Releasing October 2023
Who Buried Sarah
Book 4 - Canadian Historical Mysteries, New Brunswick
Eden Monroe
Sarah, the only daughter of Rev. and Mrs. Cranston Estey, was betrothed to Connor McLagen of the wealthy Rothesay McLagens. The ring was in place and the wedding date set when Sarah changed her mind. A day later she disappeared.
Her note said please don't try to find me, but a detective turned up several sightings of the cold-footed bride-to-be in various parts of the province.
And then Sarah was found, buried in a rose garden.
All eyes turned to the jilted fiancé, but he was the first to be cleared of any wrongdoing. And the real killer laughed.
---
Releasing December 2023
Bad Omen - Nunavut
Book 5, Canadian Historical Mysteries - Nunavut

Dean L. Hovey & John Wisdomkeeper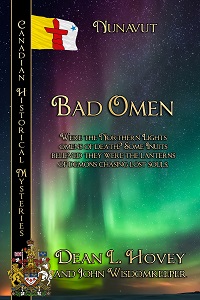 "Wrenched from his Toronto college life, Christopher Pokaik is called back to Nunavut, where he'd been raised by his grandfather. He's quickly torn between his dead parent's Anglican beliefs and his grandfather's Inuit spiritual beliefs. Like the Inuit demons in the Northern Lights, Christopher finds himself being chased by forces that could bring him back to Iqaluit, push him to Toronto, or kill him."
---
Releasing February 2024
Spectral Evidence
Book 6, Canadian Historical Mysteries - Newfoundland
Eileen Charbonneau & Jude Pittman
Seventeen year-old Newfoundlander Charlotte Jeddore loves nothing more than learning sacred healing arts from the elders of her Mi'kmaq and Beothuk grandmothers. But the year is 1692 and her father needs her help. Their American cousins of Salem, Massachusetts have been accused of witchcraft. Will she help him fight for the lives of Philip and Mary English?
When they arrive the couple have already been imprisoned. How can they survive against spectral evidence— harming their victims from afar as invisible projections? The motives of their accusing neighbors are anything but spiritual. They are after the English famiiy's wealth. And sights are now fixed on the heirs. Can Charlotte get young Mary, Philip and William to Newfoundland, without infecting her own beloved island with spectral evidence fever?
---
Releasing April 2024
The Seance Murders
Book 7, Canadian Historical Mysteries - Saskatchewan
Joan Havelange
1908: Regina, Saskatchewan, the railroad hub of the prairies, is booming. The foxtrot is the latest craze hitting the dance halls, and silent movies are all the rage. But it's the newest fad, séances, that intrigues Myrtle Vanhoff.
Myrtle is tired of the constraints put on her by her father, Reginald Vanhoff, a lumber baron, and her mother, Amelia. Her mother is determined to make her and her daughter's mark on Regina's burgeoning social scene. But Myrtle has other ideas. On a lark, the rebellious young woman convinces her twin brother, Leopold, to attend Madame Scarlatta's notorious séances. They find more than restless spirits. Someone murders a bereaved patron while everyone at the table is holding hands. Myrtle and Leopold are determined to find out who and how. A Regina police sergeant is appalled at Myrtle's unladylike interest in the murders. But Jonathan Chapman of the Royal North-West Mounted Police is intrigued. Jonathan joins Myrtle and Leopold in their search for the murderer. When Myrtle gets too close to the truth, the murderer targets her as the next victim.
---
Releasing August 2024
Discarded
Book 8, Canadian Historical Mysteries - Manitoba
Nancy M. Bell
When the British arrived in Winnipeg in the 1800s it was convenient for the men to take Métis wives. They were called a la vacon du pays – according to the custom of the country. These women bore the brunt of ensuring survival in the harsh environment. Without them the British army and fur traders would not have survived the brutal winters. However, as society evolved it became accepted that wives must be white, schooled in British ways, fashionable in the European sense and married by the Anglican church. The Métis wives and their 'country born' offspring were thrown out and forced to fend for themselves. The unrepentant husbands continued to live comfortably with their 'new' wives. It was inevitable that some discarded wives did not accept their fate quietly and hard feelings on both sides were unavoidable. When the bodies of two discarded Métis wives, Marguerite and Marie-Anne, are found floating in the Red River, Guilliame Mousseau, sets out to get to the bottom of his sister Margueite's murder.
---
Releasing October 2024
Twice Hung
Book 9, Canadian Historical Mysteries - Prince Edward Island
Vanessa Hawkins
Ethel Arsenault's been hearing noises in her brother's house ever since she arrived from Summerside, but when he turns up dead, could the supernatural be to blame, or her sister-in-law Dolly who's been caught talking to herself when night falls?
Ethel isn't sure, nor is she happy when she's left alone to care for Ernest's estate. Was her brother the victim of sweet, little Dolly Arsenault, or is some other sinister force at work? The city of Charlottetown is quick to point the blame at Dolly, but now Ethel has been hearing things in the house...
... or is it just her imagination?
---
Releasing November 2024
Jessie James' Gold
Book 10, Canadian Historical Mysteries - Ontario
Diane Bator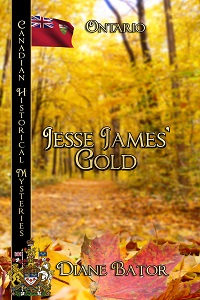 The instant Emma Bellamy hears the rumour that Jesse James, wanted outlaw and fugitive, has been spotted in Southern Ontario after robbing a Wells Fargo, her imagination runs rampant. Bored to tears after leaving the excitement of 1870s Toronto to live in the wilds around Mulmur, she begins asking around to see if any of the neighbours have seen the gang. Adding fuel to her imagination, is the rumour that a member of the James gang was related to a local man.
When she and her maid, Coreen, see a group of men riding the nearby trails, they decide to follow. After narrowly missing being shot, then finding a dead man in the woods, they decide to do some digging of their own to find out if the rumours are true.
---
Releasing December 2024
A Killer Whisky
Book 11, Canadian Historical Mysteries - Alberta
Susan Calder
The 1918 influenza epidemic strikes Calgary, Alberta. The Great War rages overseas. While her husband fights in France, Catherine works in a doctor's office to support her children and her brother, a wounded veteran. One night their neighbour suddenly takes sick and dies, presumably from influenza. Catherine suspects someone laced his whisky with a drug that mimics the deadly flu's symptoms. She convinces the police to investigate. To her shock, her brother emerges as a suspect. Catherine delves into his secrets. She grows disturbingly attracted to the investigating detective, who mourns the loss of his wife and child. He's convinced someone close to Catherine is a killer. Catherine must discover the truth so she can move forward in a world that has changed forever.