Award winning author, Suzanne de Montigny, wrote her first novella when she was twelve. Years later, she discovered it in an old box in the basement, thus reigniting her love affair with writing. A teacher for twenty years, she enjoys creating fantasy and paranormal for tweens and teens. She lives in Burnaby, B.C., Canada with the four loves of her life – her husband, two boys, and Buddy the dog.

For more information about Suzanne's books including blurbs, reviews and purchase links, please visit her website: www.suzannedemontigny.com
Author of the Canadian Historical Brides Collection, Book #6
Fields of Gold Beneath Prairie Skies (Saskatchewan)
---
To purchase click the book cover
French-Canadian soldier, Napoleon, proposes to Lea during WWI, promising golden fields of wheat as far as the eye can see. After the armistice, he sends money for her passage, and she journeys far from her family and the conveniences of a modern country to join him on a homestead in Saskatchewan. There, she works hard to build their dream of a prospering farm, clearing fields alongside her husband through several pregnancies and even after suffering a terrible loss. When the stock market crashes in '29, the prairies are stricken by a long and abysmal drought. Thrown into poverty, she struggles to survive in a world where work is scarce, death is abundant, and hope dwindles. Will she and her family survive the Great Depression?
Review - Juliet Waldron Historical Fiction author
This series (Canadian Historical Brides) showcases the experiences of the folks who came to settle our neighbor north of the border. Different times, different circumstances, but all these people left a familiar world and came to a frontier--of one kind or another. Lea meets her man at the end of WW1 in war weary Belgium when a french-speaking soldier from Canada--Napoleon--bivouacs with her family. A whirlwind romance later, and Lea is on her way from Europe to a homestead on a prairie farm. There are good times--and bad times too--aplenty, as the young couple begin their lives together, because the timeline includes the '29 Crash and the '30's dust bowl disaster which broke many a strong family. Courage sometimes falters in this true, well-researched tale, but love never does, and Lea, who has come so far and braved so much, will find her happiness in a new land.
Click the store name to purchase
Order Print Copy - Amazon
Order Print Copy - Indigo
---

Book Covers are linked to Bookstore Sale Page - Click covers to purchase books

https://www.youtube.com/watch?v=xGxr4Nz5XdM&feature=em-share_video_user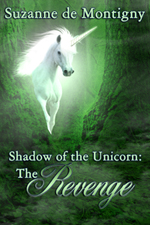 Born deep in the forest, far from the herd, Damien is kept a dark secret by his parents until his father, Samuel, decides the colt must join the other foals to be initiated. But the unicorns are horrified by Damien's birth defect. They see him as a freak despite his astonishing abilities. Then when a rival shoves Samuel over the edge of the canyon to his death, Damien's talents turn deadly. Can anyone stop him before he destroys their world?

If you liked Richard Adam's Watership Down, you'll love the series, Shadow of the Unicorn."
---
Sixty years after the unicorns' narrow escape from extinction, Azaria's Legacy has gone wrong. The new generation barely exists, hidden in the depths of the forest. Their cruel and ruthless leader, Icarus, threatens them daily with Jaresh, an invisible being capable of taking away their powers. Angry, the young colt Ulysees and his friend Téo rebel, following an old, abandoned trail where they're discovered by humans. Now the entire herd must flee. But Ulysees learns there's a far greater danger than humans when he meets a giant creature who warns him of impending doom…
---
A loud, hissing sound filled the air. The unicorns looked up, their eyes filled with horror.
Azaria, a unicorn colt, is intrigued when the young, clairvoyant dinosaur, Darius, foresees a terrifying change to their world. When a giant fireball smashes into the earth, the unicorns struggle to survive the hurricanes and starvation that follow. But nothing compares to the danger when the creatures-that-walk-on-two-legs settle in the valley, and their leader discovers the healing power in the unicorns' horns. Greedy and ruthless, Ishmael will stop at nothing in his pursuit of wealth – even the complete extinction of the herd. Azaria must find a way to outsmart Ishmael before it's too late.
---
Free Shadow of the Unicorn Study Guides
Reproducible study guides for use in the classroom complete with word lists, puzzles, art projects, and best of all, an answer key for teachers